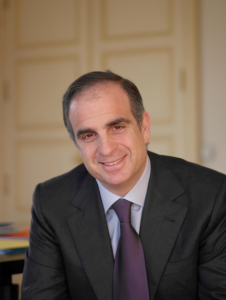 Born on July 1, 1961 in Neuilly-sur-Seine, Jean-Paul Gut studied at the Lycée Janson-de-Sailly (Paris). He studied at the University of Paris II-Panthéon Assas and graduated from the Institute of Political Studies (IEP Paris). He began his career in 1983 as Vice President Export at Matra-Défense. At the age of 22, Jean-Paul Gut became one of the youngest executive managers in this industrial sector. In 1988, he was appointed Export Sales Manager.
From that time on, Jean-Paul Gut made his mark in the field of export, international development and strategy. In 1990, he was appointed Executive Vice-President for international affairs at Matra Défense Espace. In 1993, he was appointed Senior Executive Vice-President in charge of international affairs for the Lagardère Group. He became a member of the Executive and Strategic Committee and advisor to the Chairman, Jean-Luc Lagardère.
In 1996, he was appointed Senior Executive Vice President of Matra BAE Dynamic and two years later, Deputy Director of the Lagardère Group, in charge of international affairs and the high technology sector.
Jean-Paul Gut is well acquainted with the world's leaders and the geopolitical issues underlying commercial relations. He has led several major transactions around the world in the aerospace, defense, high-tech, telecom, media, sports and automotive industries.
When Matra-Défense and Aérospatiale merged in 2000, he was one of the main architects of the merger. He was appointed President of the new entity, Aerospatiale Matra Lagardère International, and Executive Vice President in charge of defense and space transportation for Aerospatiale-Matra, one of the three founding companies of EADS.
Jean-Paul Gut and his teams, which he manages like a true entrepreneur, will generate more than €150 billion in contracts. This was the result of a long-term effort in which he succeeded in gaining the trust of his partners and making the right decision at the right time.
When EADS was created, he became a member of the Board of Directors and the Executive Committee. In June 2005, he was appointed Co-Chief Operating Officer of EADS. He is also Director of EADS International (the marketing organization of EADS), which he founded at the creation of the group in 2000.
In May-June 2006, he took over the position of Chief Strategy Officer of the EADS Group. He became Managing Director in charge of Marketing, International and Strategy until June 2007. At that time, he concluded the considerable sale of eighty A350s with Qatar Airways for 16 billion euros.
In June 2007, he announced his departure from EADS and founded a consulting firm in London, Coolmore International Ltd. Created by entrepreneurs for entrepreneurs, this company's main activity is to "provide international skills and experience to large French and European groups wishing to develop in certain major international markets, and an investment consulting activity to bring together large foreign investors with European groups wishing to establish economic partnerships.
He also created a private equity company, Armat, which invested in diversified asset classes including private equity, real estate and financial instruments. Examples of private equity investments include 4iQ, a company specializing in computer security and data protection. Examples of private equity investments include 4iQ, a company specializing in IT security and data protection; the well-known online fashion and lifestyle store Lesara; prooV, the world's first "Pilot-as-a-Service" platform that facilitates and streamlines the Proof-of-Concept (PoC) process for startups and companies; and Job Today, the world's #1 application for job postings in the restaurant, retail and hospitality industries.
Armat has developed investments in the real estate sector in the United States (New York, Honolulu, Miami); in Europe (Great Britain, France, Italy) and in Asia (Hong Kong). The company is also active in real estate debt financing (Algate Tower, numerous commercial and residential properties in London and the UK) as well as aircraft and infrastructure financing. Armat is also an investor and partner in leading private equity funds.
Unlike traditional private equity funds, Armat is an opportunistic and flexible investor in terms of sector, geography and investment horizon.